Visit the Panama Canal and you'll witness exuberant nationalism. Every new arrival watches a short video showing the long struggle by the Panamanian people to gain control of their waterway: first from the French, and then the Americans – with much flag-waving and jubilance when they finally did.
Not referenced is the drama lurking in the background: beginning with the so-called 1892 "Panama scandals", which some historians call the largest financial corruption scandal of the nineteenth century.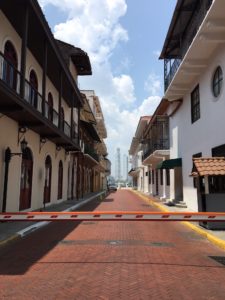 More than 100 years later, Panama – a small Central American nation associated with wide-brimmed white hats, which actually originated in Ecuador – is synonymous with corruption again. The leak of 11.5 million documents last April – which provided evidence of offshore accounting information – caused shockwaves across the world.
This normally ignored country saw streams of journalists descend on the Panamanian law firm that created the documents – Mossack Fonseca. "It was surrounded for two weeks," one local recalled.
Though attention has died down, the mood in Panama is still one of confusion and anger: citizens of this small nation say major countries are being hypocritical – welcoming Panama as a scapegoat while they enable money-laundering themselves. They point out the widespread corruption in other countries: Transparency International's 2016 Corruption Index, Panama came in at 87 of 176, ahead of neighbours like Colombia, El Salvador and Argentina, and far ahead of many countries in Asia, Africa and eastern Europe.
Public opinion remains widely critical of the leak, failing to connect the country's massive inequality with the law firm's behaviour.
It was to this atmosphere of vexation and simmering resentment that we arrived for the biennial International Anti-Corruption Conference (IACC) in Panama City last December.
**
"Unfortunately Panama and Papers both begin with P, right?" said Tom Keatinge, a British former banker who runs a research programme that covers issues of financial crime.
When the investigation came out Keatinge was phoned up by both the Panamanian embassy in the UK and the British government to explain what was going on, off-the record. Everyone was very panicked, he recalled. "Panama faced an existential financial threat, because if the world had decided Panama was dirty and started cutting off banking relationships what would have happened to the country?"
The International Anti-Corruption Conference was the first time many of those who worked on the Panama Papers actually entered the country.
"Since being in Panama I've had the chance to meet with banks and some government officials and their views fall into two halves – one, we need to sort ourselves out here and others who say this was a private sector company, it wasn't the government, and the US and the UK are also opaque so you can't lecture us.
"I think that those who think it's everyone else's problem and not the country's problem could be in for a very nasty shock," he continued, "because power matters and unfortunately Panama is not in a strong position."
Those who work against corruption within Panama also experienced a backlash. "Most of my friends consider me a traitor," said Lina Vega, a journalist and former executive president of the Panamanian chapter of Transparency International, speaking outside a session at the IACC.
Many young Panamanians grow up dreaming of a career in the financial and legal sectors, Vega added, so this has directly attacked their aspirations.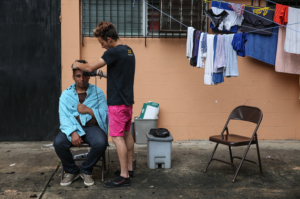 "I think there's a mostly general feeling that this investigation that put the finger of the world in Panama cost the country a loss of jobs. If you make an inquiry on the streets most people would say it's not fair."
"It exploded nationalist feeling," she continued. "Some people were saying we are a very successful economy, in the world they have an economic problem (so) they want to destroy us."
**
About 30 minutes drive from the business area where the International Anti-Corruption Conference was being held, in a slum removed from the skyscrapers, it was easy to see Panama's inequality. Striking graffiti on a turquoise wall showed a grim reaper raised his scythe, the word "corruption" emblazoned below him.
Children played football in the streets while a large, tanned, shirtless man squeezed into a white plastic chair sat and watched. It was mid-afternoon.
Almost 40 percent of Panamanians live below the poverty line, a statistic that rockets to 65 percent in rural areas.
Panama is also a country on the land route for refugees and migrants attempting to make their way to the US. Victor Berrio Anderson, director of Caritas, an organisation that provides shelter and safe houses for migrants passing through, said corruption was one among a number of factors driving migrants north.
"Most central American countries [experience] a lot of corruption and the poor people are being abused," he said.
**
German investigative journalist Frederik Obermaier also attended the IACC in Panama. Reflecting on the leaks last week, he said he has no regrets, calling tax havens a "global menace."
"They affect every single citizen. One should not ignore the fact that offshore-companies are not only used to dodge and evade taxes, but to hide criminal activities like corruption and money laundering. Secretive companies and trusts are used to loot companies and to breach sanctions," he said.
Responding to claims that placing so much attention and blame on Panama was unjustifiable, he said: "Definitely not. The law firm in the centre of all revelations is Mossack Fonseca, a law firm based in Panama owned by Ramon Fonseca and Jürgen Mossack – both being well connected to the government. Mr. Fonseca was even an advisor to Panamanian president Juan Carlos Varela. It tells you a lot when politicians are complaining about the name 'Panama Papers, but not about what has been revealed."
Obermaier said many colleagues had faced blowback in relation to their work on the leak. "Politicians and businessmen have responded to the revelations with  threats, cyberattacks and lawsuits. This worries me a lot and of course I still fear for the safety of my brave colleagues who still work on the Panama Papers despite all these threats. Nevertheless the collaboration in itself does already offer protection to a certain extent. Everybody out there must know that if you do harm to one of the 400 journalists working on the Panama Papers, 399 will go on working and muckraking even harder – especially on the stories the colleague did pursue."
Sally Hayden is an award-winning Irish journalist based in London. After nearly two years as the chief staff writer for Vice News UK she went freelance in May. She has worked for the Thomson Reuters Foundation, BBC, the Financial Times, the Irish Times, the Sunday Times, Magnum Photos and many others, and has reported from Nigeria, Lebanon, France, Germany, Northern Ireland, Rwanda, Burkina Faso, Malawi, Ethiopia, and various other countries @sallyhayd
Save
Save