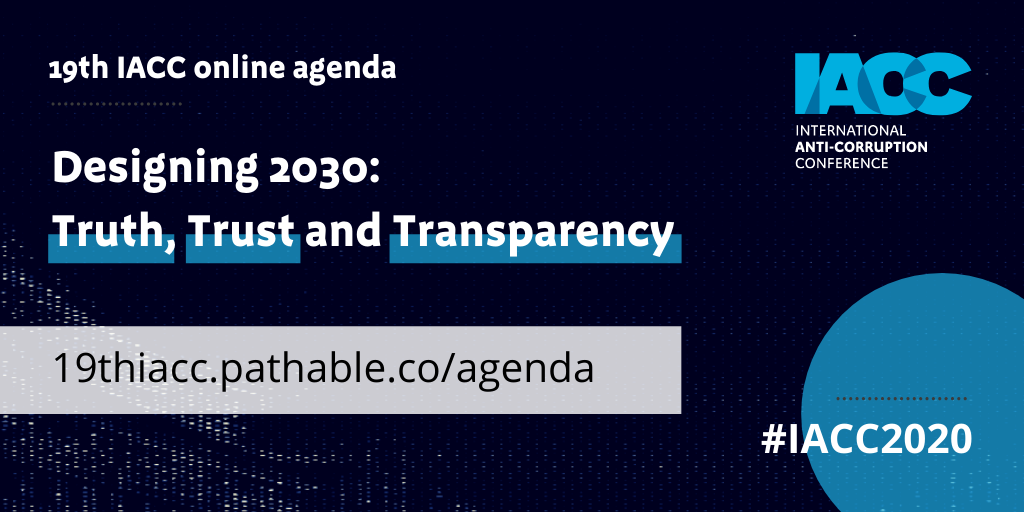 With over 100 thematic workshops to choose from, film screenings, music awards, and world leaders speaking to a global audience around the world in various plenary sessions, the agenda has something of interest for all.
Register by creating your account at https://19thiacc.pathable.co/ and join for free the Conference in its first virtual format. Be part of the 5,000 participants from around the world that will engage in dialogue to find solutions and imagine the world we want to achieve together by 2030.
Hosted by the Republic of Korea, from the 30th of November to the 5th of December, the 19th IACC will talk about rebuilding trust, the challenges of exposing the truth, the vicious cycle of dirty money and impunity, investigative journalism in the times of coronavirus, integrity in climate action, the challenges of political finance, youth and activism, and many more topics.
We invite you to join around five thousand people from all over the world during the six days of the Conference, and together imagine the world we want to be in 2030. Together we can build our common future, one that is sustainable, fair and inclusive, and where the corrupt stand no chance.
Please note that the agenda is subject to changes and is undergoing daily updates. Thank you for your understanding.
As always, feel free to get in touch with us at [email protected].
The IACC team