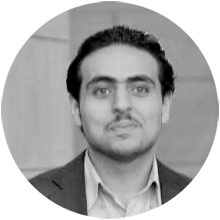 Islam Alzaini - Journalist and TV producer, Bahrain
A Corruption Free Society Initiative
The Project
My project is a video and cartoons competition to engage youth on anti-corruption.
This is an internet-based initiative which uses creativity – videos, photos, caricatures, cartoons – to raise awareness of corruption fighting, engage the public and attract talent through an annual competition to produce simple, funny and expressive works which aim at fighting corruption. We will also use creative articles written by acclaimed novelists from the Arab region who have experiences in the fight against corruption to capture people's imagination.
We believe in the ability of art to change society and in the importance of social networking to spread the message and highlight corruption. Experience shows that simple and funny creative materials which target citizens directly with innovative methods have been a great success with the Arab Spring activists and have achieved high viewing rates, reaching millions, and also in raising awareness and attracting young people. A project like this, when it provides materials which people do not find "boring, compulsory, repetitive or complicated" will create a large degree of awareness of the problem of corruption in people's day to day lives.
Game Changing Factor
Fighting corruption in the Arab world at the moment depends on instructions, directives and long circulars that do not have any impact on people and do not attract them. There has not been any social network before about corruption fighting which provides videos and simple pictures which attract and persuade people. Even available materials are often too serious. That is why this project will be unique.
Why I fight Corruption
I strongly believe that the countries in which corruption is widespread do not advance. We, in the Arab world, live amidst widespread corruption on all levels, starting from the ordinary citizen who might use bribery and favoritism, to businessmen and officials. A tangible change in society should be based on raising society's awareness of the danger of corruption and its negative impact.
Follow Islam
Follow Islam on Facebook and like the CFS Initiative's Facebook page
Check them out online here: http://www.cfsmena.com/
BACK