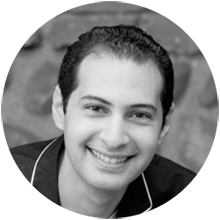 Ayman Sabae - Partner of Shamseya for Community Health Solutions, Egypt
Citizen-monitored Health
Quality indicators to evaluate health service providers
These indicators will enable citizens to hold service providers in the public and private sectors accountable and will provide other consumers with a continuing assessment of the service quality provided in different facilities, enabling them a more enlightened choice of providers, exposing governments and service providers and making them accountable in front of their customers and constituencies through a scientifically-measured, yet, user-friendly set of quality indicators and measures that are available to all and regularly updated.
Game Changing Factor
This is a community-monitoring tool that is created by the communities and validated by experts. It is game changing because its strength and capacity to grow and prevail relies on its community origins.
The project tackles corruption through providing a visible community-monitoring tool that allows citizens to voice their view on service quality, through an objective, scientifically accurate set of quality indicators that are user friendly and easy to use by others, constituting an important step in promoting social accountability of service providers.
Why I fight Corruption
In Egypt, resources – that are limited to begin with us – are continuously drained due to a significant fail in the good governance mechanisms that govern all sectors, the public sector in particular. Public funds are wasted in unmonitored expenses that fail to remotely meet the basic requirements of acceptable service quality to the general population in many sectors. Any needed reform in this sector will have to begin through citizens tools.
Follow Ayman and Shamseya
Read Ayman's full application to the IACC Social Entrepreneurs Initiative MENA
Check out Ayman and Shamseya on Twitter
Follow Shamseya on Facebook
And have a look at their webpage: http://shamseya.org/ and the online platform: http://eghospitals.com/
BACK