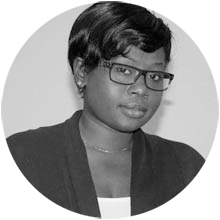 Alexise Ouedraogo - Journalist working for the Union Nationale des Journalistes de Côte d'Ivoire
The Project
An awareness-raising campaign for school children
Making people aware of the problem is the first step towards having an impact on corruption. Society finds ways of hiding its corrupt acts and this is certainly the case in Côte d'Ivoire; to obtain an administrative document one does not bribe the public official but "motivates" him; to ensure positive media coverage one does not corrupt a journalist, one simply "pays his petrol". In the Côte d'Ivoire, no one speaks of corruption, they speak of getting by. By this logic, corruption is no longer a bad thing but merely another way of managing every-day life. The first battle, therefore, is to get people to understand the devastating impact of corruption, to make them understand that corruption is not normal behaviour and that it has consequences.
I intend to produce three films for school children and teenagers; one for primary school students, one for secondary school students and one for students in the last year of school. The films will portray the realities of corruption and the immediate consequences for those around you.
The films will also teach students concretely how to fight corruption in their day-to-day lives. At the end of filming, each film will be shown in certain schools in the main cities of Côte d'Ivoire as part of awareness-raising open days where parents and other actors from the education sector can come and participate. This is also an occasion to discuss the risks faced by adults engaged in the fight against corruption in schools.
I am certain that once we have launched the project we will be supported by a large number of anti-corruption organisations in the country.
Game Changing Factor
I want to change the mind set at grass-roots level in order to change the mind set at the top. Seminars and workshops run by teachers' associations or other actors in the educations sector are nothing new and in practice they don't seem to work. By informing the primary victim of corruption in education of their rights and responsibilities I want to enable them to use their voices, however small, to say no and impose change step-by-step.
Why I fight Corruption
In June 2013 I was sent by National Television Network in the Ivory Coast (RTI) to cover the beginning of the final school exams in the country. It was through this experience that I really became aware of the depth of corruption in the Ivory Coast's education system; students who didn't care, lax and complaisant teachers…the scene I witnessed on the first day of the oral examinations shocked me:
A girl called B. Hadassa, a student at the High School for young girls at Anyama, Abidjan, was talking to one of her friends. She told her friend how, that morning, her father had given her twenty thousand francs (approx. $40). The envelope was to be given to the professor in charge of the exam. Since the announcement of the exam dates, some of the professors had made it known that they needed "motivation" if their students were to get good grades. This girl's father had got the message and accepted it. Now the girl herself was encouraging her friend to prepare "a little something" for the examiner. This "deal" she assured her friend, would ensure that she got a grade well above the average.
A few weeks later, once the results of that year's examinations had been published, I saw B. Hadassa's name on the list of Ivory Coast's top students of 2013.
Three questions came to mind when I saw this. What kind of student would she make? How would she fare in the working world? What kind of citizen would she be? Following this, I approached the National Secretariat responsible for Good Governance and Capacity Development, in charge of the fight against corruption in the Ivory Coast, in order to better understand corruption and to speak out about it more effectively. I began a series of articles on the state of corruption in the country.
This story helped to accelerate anti-corruption efforts in the country since in November 2013 the State set up the High Authority for the Moralisation of Public Life. Its mission is to combat corruption in the country. However, it remains ineffective with no concrete action taken to date.
This opportunity that Transparency International has given us to run a project that effectively combats corruption in Côte d'Ivoire's education system is a new chance to shake things up, take a pro-active stance and banish one of the most destructive problems in Côte d'Ivoire: corruption.
Follow Aléxise
Check out her page on Facebook, or you can go straight to "No to Corruption at my School" on Facebook too
BACK