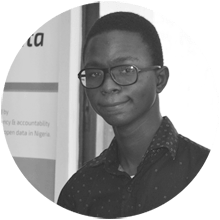 Victor Akinwande & Olayiwola Bello - Student at the Faculty of Communication & Information Sciences and Lecturer, University of Ilorin, Nigeria
The Project
Many Nigerians with little or no knowledge of accounting and public financial management are lost when they see a government budget (if they ever get to see one at all). Most media coverage of the Nigerian budget only discusses the macro figures; any further breakdown of the budget into such areas as neighbourhood projects is rarely clear. This maze of budget documents tend to confuse rather than clarify and it is difficult contextualise how public funds are actually spent. Important public data in critical sectors of the government goes unexamined.
The need for every citizen to know how his or her taxes are used in the delivery of public services cannot be over emphasized. Equality and open access to governance is vital to democracy and as such, public expenditure and procurement information needs to be understandable to all Nigerians. Visual Data aims to champion provisioning of open data and make creative use of government data by either presenting them in simple tweets, interactive format or infographic displays. It offers a platform for visualizing and encouraging manipulation and utilization of open data with mobile and online solutions to trigger discussions around public procurement and expenditure, thus taking open data beyond a news item to a focal point of debate among Nigerians.
Game Changing Factor
Visual Data is start-up that retells public data in a finer detail across every literacy span. We aim to stimulate citizen's interests around public data and hence trigger discussions towards better governance whilst using the growing power of social media and Internet as an important tool for promoting social change.
Why We fight Corruption
Nigeria's education sector has continued to suffer from severe corruption and incompetence over the years; funds meant for educational projects are mismanaged; corrupt politicians are elected to university boards where they politicize the system; the learning environment becomes secondary; academics struggle to get their entitlements; students suffer from mismanagement and looting of aid and bursaries. Corruption in the education sector is not something we can just accept. It has a wide-reaching and deeply adverse effect on the sector and the whole of Nigerian society, from economic productivity to the reduction of poverty in the country.
Follow Victor and Olayiwola
Keep up to date with their work on the IACC blog
Check out the Visual Data website: www.visualdata.com.ng/
Follow Visual Data on Twitter: @visualdatang and on Facebook: Visual Data Nigeria
BACK