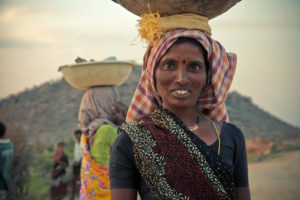 The feminist movement and the fight against corruption are not so far apart. Both require a general consensus on its significance, and both have a positive and progressive impact to society.
Speaking at a panel session at the 17th International Anti-Corruption Conference titled, "People power and gender rights: Amplifying the voices, mobilizing, empowering, enabling change," Jethlyn Burrows, president of the International Federation of Women Lawyers (FIDA) said synergy between the two movements must be developed in order to to promote the importance of a transparent environment.
"The women's movement has been removed from the anti-corruption campaign, when in fact, women and children are the most vulnerable," she said, discussing the various effects that corruption have on the most marginalized communities in society.
She added that raising awareness lies at the core of solving both problems – problems that could potentially have serious consequences.
Laura Nyirikindi, the director of PRO Initiatives and board member of FIDA Uganda, cited numerous examples of gender-based criticisms of their projects to empower women.
"Home wreckers, they called us," she said. "We are called all sorts of names, up to the point where our organization, our initiatives, and our legitimacy are challenged."
As activists pushed for more female representation in politics, the most difficult part was convincing society it was actually worth doing.
"Even if we would push for certain bills for better representation of women, it would never be domesticated," she said. "People said that this was a 'western' thing. Many would say that under their religion, men and women can never be equal. That was that."
When asked how to change such patterns of thought in the community, Nyirikindi emphasized the importance of incentivizing the public to realize the urgency of gender equality and transparency.
"It's like a business. You have to show them that it is worth investing in, that they'll have a benefit for them in return when they accept these values," she said.
Ezinwa Okoroafor, the international secretary for FIDA in Nigeria, said challenging such social norms was a significant objective of the project.
"We live in a society where women are possessions," she said. "In some areas, women would be part of the bribery process – where either a man would demand sexual offers in return for deals, or a woman would initiate the sexual offer herself for her benefits." Among the numerous premises where such "offers" would be made, were public schools, according to Okoroafor.
"Bribery comes in a wide variety of forms," she said. "Even sexual services."
She cited the United Nations Development Program, in which FIDA has a consultative status, saying,
"Building public accountability and governance systems that are responsive to women's needs is important to reducing the gendered impacts of corruption."
Both movements need more attention than ever, according to Okoroafor.
"Women need to know that it is okay to speak about their mistreatment at work, that their rights were violated, and that people are attending to such injustice in the world – just like the public needs to be attentive to the corruption that may be taking place around them."
Jihye Lee is multimedia journalist in South Korea, freelancing for NBC Asian America and BuzzFeed News covering both Koreas. She's recently interviewed a North Korean defector selling sausages for refugee smuggling projects in China, Southeast Asia. She is particularly interested in watching how social media is increasingly becoming a significant factor in journalism, especially in ways of vocalizing marginalized communities in the society. She has a master's degree from Columbia Journalism School, where she received the Mencher Reporting Award for her master's project on karaoke bars in Flushing, NY — recruiting Korean women for prostitution through an illegal taxi network of madams, internet ads, and Korean messenger app, KakaoTalk. She is currently a news presenter at the local English radio in Seoul hosting newscasts at the top of the hour every hour from 3-7PM KST. She's recently created a weekly news corner called "Trending Now," covering viral content on local social media in Korea.