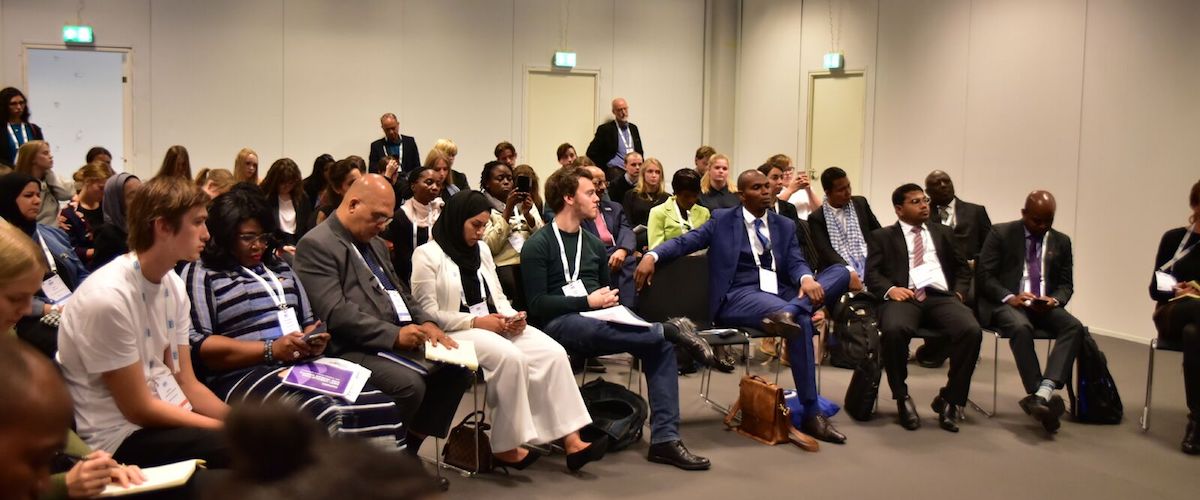 "Corruption is an educationally transmitted disease."
Emmanuel Ande Ivorgba, leader of the Nigerian NGO the New Era Educational and Charitable Support Foundation, made the statement as he illustrated why young people need education to use their skills and knowledge to fight corruption.
His comment was made during a workshop on youth's role in the fight against corruption during the 18th International Anti-Corruption Conference in Copenhagen, the capital city of Denmark.
"It will be difficult to work with the [old] generation; if we really want to build a better world we have to work with the youth."
The need for education was the consensus among the speakers.
Youth numbers on the rise
As the world's population continues to grow, studies by the UN and different organisations have increasingly shown that half of the world's population are young people between the ages 15 to 35.
A recent study by the World Bank reported that 42 per cent of the world's 3.1 billion people are younger than 25 years old, citing steep growth in the number of people between the ages 12 to 24 in South Asia and Africa.
Onyinyechi Ough, an international development professional with the Step Up for Social Development and Empowerment in Nigeria, said: "We have to see how we move young people from being victims and facilitators of corruption to become agents of change."
Ough, whose NGO teaches children in schools ills of corruption, argued that conversations around what role youth can play in ending corruption should start from their formative years.
But what does it matter to get young people involved in this fight?
Helping young people to use their skills and knowledge to develop initiatives that would end corruption is a good step to getting them ready to become change agents in society, said Obaa Akua Konadu, one of the speakers at the workshop.
Konadu, who doubles as the policy and advocacy manager at the Ghanaian youth-focused NGO Youth Empowerment Synergy, said her NGO travels across the country to educate students about the UN sustainable development goals (SDGs) in the belief that these tools and knowledge would empower youths to create initiatives that would better society.
Religious leaders also matter
Ivorgba, who is also the director of the International Conference on Youth and Interfaith Dialogue in Nigeria, said it is vital to also consider the role of religion and religious leaders, particularly in Africa.
"We live in a place where religious leaders have so much power so we cannot ignore them," he said, adding that initiatives aiming to tackle corruption have to engage religious leaders so they can pass the message back to their congregations. His NGO also starts clubs for young people across Nigeria to meet every month to discuss conflict, religious tolerance and peace.
While the panellists stressed the crucial value of youth in fighting corruption, they also acknowledged that the current traditional political processes and power distribution models continue to exclude the youth.
Armed with the internet
Paula Schwarz, founder of the World Datanomic Forum and the refugee think tank 'Startupboat' which digitises refugee camps in Greece, advised young people to use technology to start initiatives that would solve many of society's problems.
She said the internet has the tendency to promote seclusion and the use of technology for destructive means, but urged young people to instead use it in ways that help people around them.
It starts at home
Overall the experts worried that the world is increasingly adopting a narrative that tells young people and children what to do — but does not show them good examples to follow. They suggested that the role of family be promoted so that it indoctrinates values to children and helps them unroot corruption in daily life.
"The approaches we take basically rely on do-as-I-say, not as I do," said Professor Paul Heywood, a trustee of Transparency International in the UK and professor at the School of Politics and International Relations at UK-based University of Nottingham.
"People can spot hypocrisy, especially children."