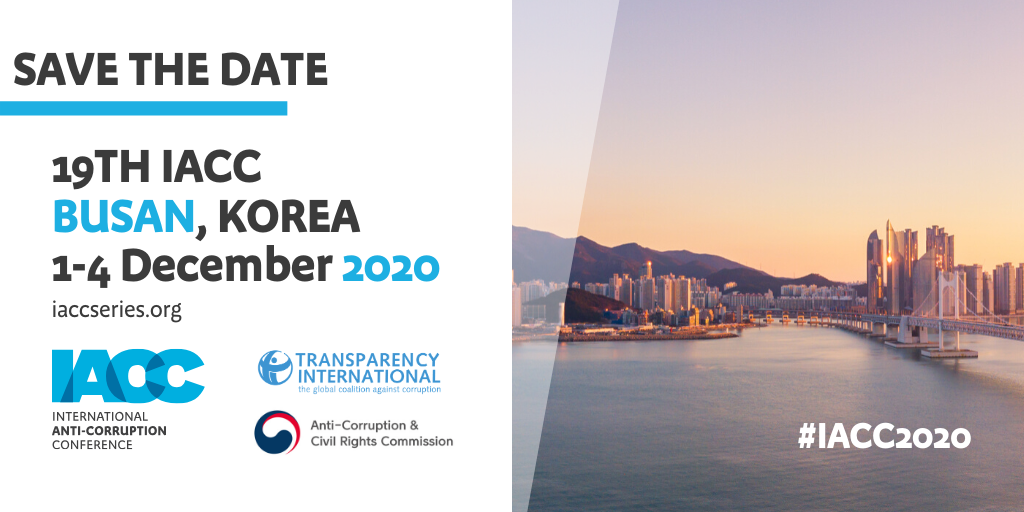 The International Anti-Corruption Conference (IACC) Council and Transparency International (TI) in close cooperation with our Korean hosts have secured new dates and venue for the 19th IACC, from the 1-4 of December 2020 in Busan, Republic of Korea. Busan is the second-largest city in Korea and is well known for hosting global events and for having high hosting standards.
Under the theme Designing 2030: Truth, Trust & Transparency, these new dates allow us to reshape the 19th IACC Agenda and reflect on the current pandemic and its consequences on governance, the economy, social justice and freedoms, human rights and international cooperation, and many more. We aim to explore national post-pandemic scenarios, their implications for our common goal to end corruption and to create alliances and strategies to respond to them.
We will continuously monitor the health and safety situation and should it become necessary, we will explore further dates in 2021.
Stay tuned! We will be sharing our latest updates on our blog and our social media channels on our Twitter and Facebook.
If you have any enquiries, feel free to get in touch with us at [email protected].